Posted by:

Deniz Kayahan
Comments:

0
Post Date:
20 September 2022
---
Why is Gamifying Software Development More Relevant Now?
Deniz Kayahan
Gamification has been around for nearly two decades. It is the application of typical elements of game playing, such as points, scores, or competition with others; to non-amusement areas such as education, marketing, and employee motivation. 
From the beginning, we have seen numerous gamification examples; engaging users to contribute the location contents of Foursquare, motivating developers to interact with technical documentation on Stackoverflow, or stimulating athletes to track their progress, earn trophies and badges, and celebrate their wins by Nike + Run Club. 
Software development has been always an area of gamification too. A popular project management approach, agile, includes many gamification practices. Poker games to estimate the effort of a development task, tracking the team performance based on velocity from estimations, open and free-to-play boards to increase transparency, or creative scrum master games to engage people to talk in retrospective meetings.
However, the software development domain has seen a significant impact from Covid-19. The scenario for working fully remote did not survive but hybrid work prevailed. According to a McKinsey report[1], after the pandemic, %52 of employees want hybrid work compared to %30 before. Hybrid work brings the feeling of flexibility to employees with the cost of side effects. According to the 2022 Work Trend Index[2], the number of meetings per person increased % by 150, and the average after-hours work by 27%. New concepts such as "leaf blower meeting problem" and "video meeting fatigue" emerged. Burnout rates reached historic levels [3] due to work overload. 
As a result, according to another study[4], %59 developers want to work in more flexible work environments like startups or scale-ups. %19 and %47 of them think that the biggest problems are the demand for overtime work and bad project management respectively.
Gamifying can't make a team lead to a better project manager or turn work an environment more flexible. But it can provide;
a meaning where the team member believes that he is doing something greater than himself or he was "chosen" to do something in the software development project. 
a feeling of accomplishment for the tasks when there is no feedback from the team.
ownership of overall project objectives. When a player feels ownership, he/she innately wants to make what she owns better and own even more.
Inooster is a well-established gamification company. Our clients encompass leading players in the banking, retail, call centers, and technology industries. Our response to the change and challenges of a new hybrid work environment is our new SaaS product Synergy. It allows software development teams to award badges and accomplishments on key behaviors of the teams; close a challenging task, add a valuable comment to a story, and join and contribute consistently to the daily meetings on time.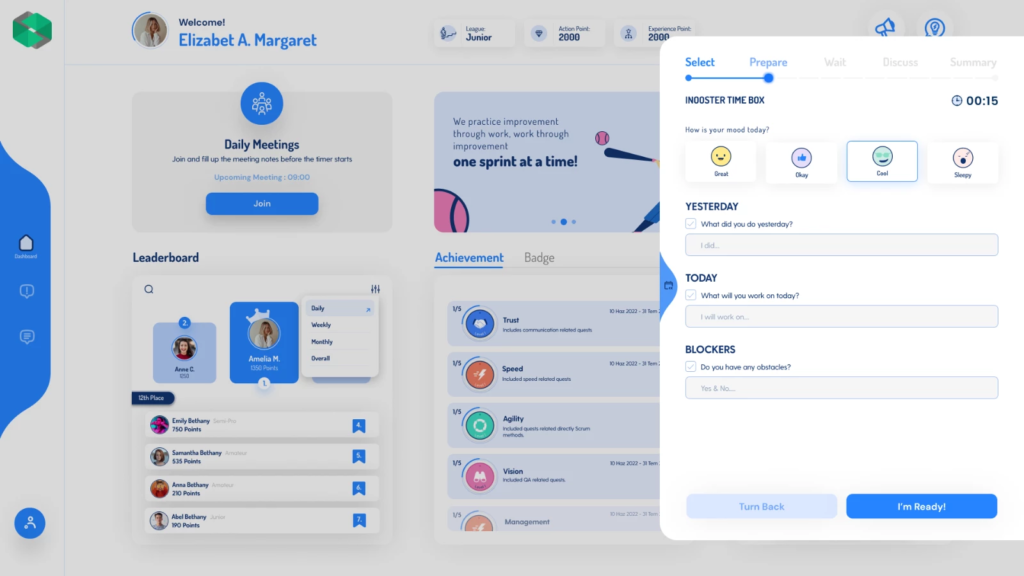 In addition, Synergy has a daily meeting feature for remote teams, where daily personal developments are recorded and synchronized. Currently, the product has integration with Jira, but in the following months, project management and collaboration tools like Goodday, Asana, Monday, Click-up, Teams, Zoom, Confluence, Figma and Trello will be also integrated. It is waiting your trial on Atlassian marketplace!
[single_loop]